improvedyard.com is a participant in the Amazon Services LLC Associates Program, an affiliate advertising program designed to provide a means for sites to earn advertising fees by advertising and linking to Amazon.com.
Want to know what the best exterior paint color to sell a house is? Then you have come to the right place!
Selling your home is a stressful process at times, there are many different things to consider like what repairs to do but I feel the most important part is what exterior paint color to choose as this is what gives your house what is called the curb appeal.
The best exterior paint color to sell a house in White, it's said to give a new clean look to a house. The least popular colors are said to be dark colors like red and black but we will show you some examples below how these colors could work.
So now we know what color is best if you're thinking of painting your house a bright color or very dark this may well be the best time to reconsider so that your house will appeal to a much broader market. Below we will be covering some colors that are thought not to be the best choice when it comes to exterior paint but with a little twist can look perfectly fine.
White Exterior Painted House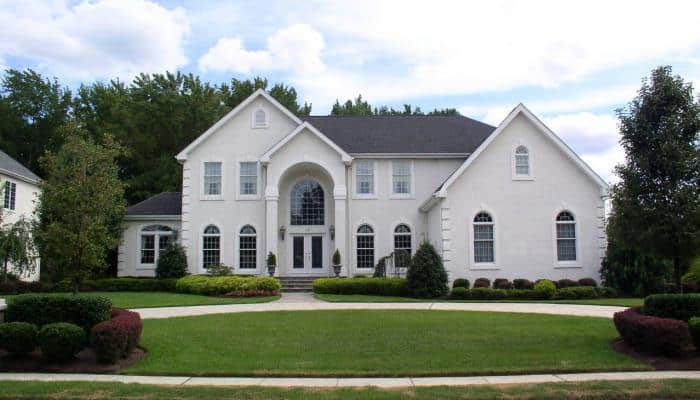 The most popular exterior paint color is white it is said to give off a clean look and a feeling of newness, looking at the above picture I can't disagree one bit.
What also helps is the well-manicured lawn and the shrubs with all the green it makes the house pop out and gives off a wow factor and this is what you are after if you are selling your home.
If your house is one of many white houses then painting the trim and other architectural details can make your house stand out from the crowd more on that below.
Cream Exterior Painted House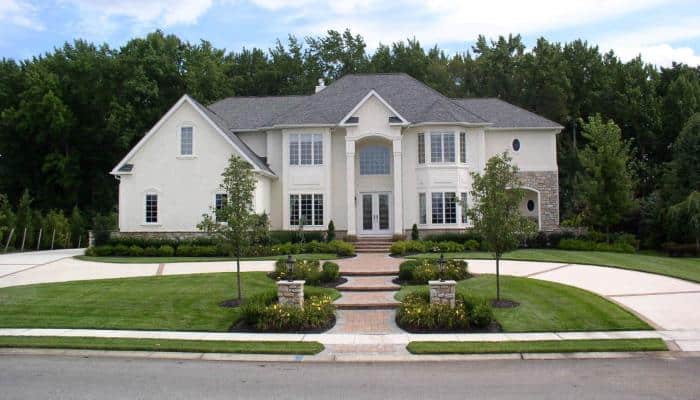 Cream or off-white is the next best choice when it comes to the best exterior paint color to sell a house, it has the same impact as white but with a less in your face effect you will still get a feeling your house pops in you to have a lush green lawn.
White for some people can seem to clean but a cream (off-white) can give a more subtle look but with all the same effects as white.
Grey Exterior Painted House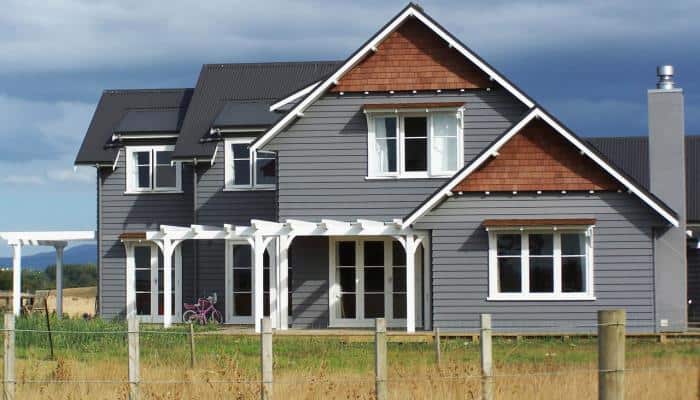 Grey and other dark colors in most cases are thought to be a bad choice when it comes to the best exterior paint color to sell a house but done correctly they can work very well and give your house the wow factor.
Taking a look at the above Grey Exterior Painted House the windows, trim and other architectural details have all been given a bright white paint this makes the house look very modern and breaks the grey up very well.
Dark colors are very hard to get right but using a contrasting color in most cases will save your house from looking too dark and unappealing.
Yellow Exterior Painted House
Yellow is a paint color that you just love or hate it's not a color that will grow on you over time so painting your house this color need careful consideration.
I would recommend going with a pastel yellow; these tend to be warmer than an eye-popping yellow.
If you have a yellow house or looking to paint your house yellow you may want to tone it down a little and this is easy down why painting the windows, trim and other architectural details a bright white this in most cases will calm the yellow paint a lot.
Getting a yellow exterior paint right is key to making the wrong choice and you will get a lot fewer people thought your door and this isn't something you want when trying to sell your house.
Brown Exterior Painted House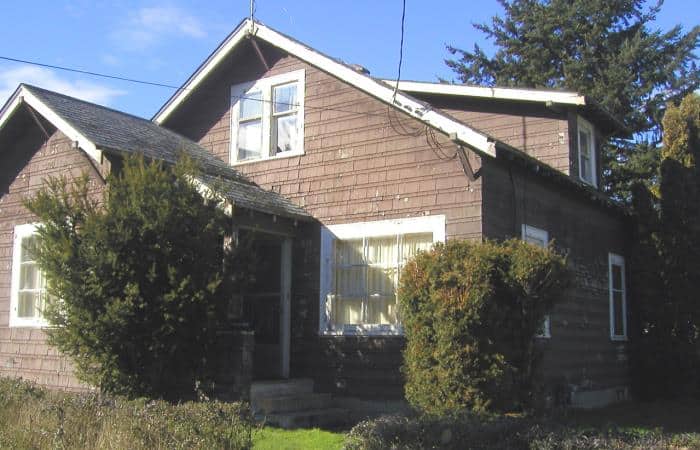 Again a dark color and hard to get right taking a look at our picture they have followed all the rules dark color with white windows and trim but with such a dark color it just doesn't work.
If you are going to go with a brown you will need to find a brown that is rich in tone like a morning coffee anything too dark is hard to get right.
Looking at the picture this is another reason dark colors are a bad choice as to if maintenance is not kept up then your house can start to look the ugly house on the street.
Red Exterior Painted House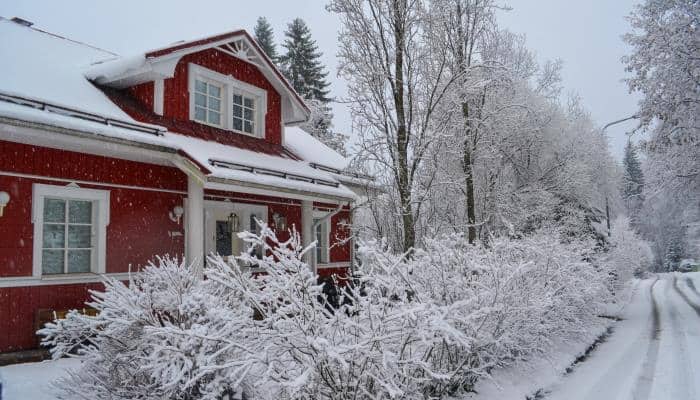 A red-painted house again is hard to get right but can be a bold statement and when done right looks nice.
As a running theme with the dark colors windows, trim and other architectural details need to be painted in a contrasting color and white is normally best it breaks the color down but allows for a bold statement.
Red paint is bad for fading in the sun think about red cars they fade so make sure you look for a good paint and expect that your maintenance will go up as it will need much more regular paintwork.
White Exterior Painted House with a Bold Statement
As we have seen and discussed in the post that white is the best exterior paint color to sell a house is white and this one has a little twist, using white with a bold color on windows, trim and other architectural details to make the house stand out.
Now I feel it's hard to get a dark color to look right but using white and then going with a bold color to highlight the house I feel works perfectly.
Your yard is important not just the house color
Getting the correct color is a key element in selling your house and if I have to give you my tip on the best exterior paint color to sell a house then it would be to go with white.
There are other elements like making sure you have a lush well looked after the lawn and making sure your flowerbeds are well kept this will all help when it comes to selling your house.
With a green healthy lawn and a bright white house, it will make your house pop and will give it that extra wow factor that may just help you get a deal over the line.